Professional support for your project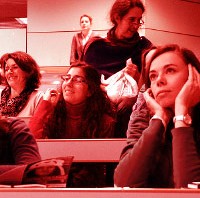 Your association is facing a challenge and you need support to solve it ?
---
Are you seeking for advice on your entrepreneurial project ?
---
You wish to contribute to a social project but you don't know from where to start ?
---
Contact us for a first exchange on your challenge and we will define together the best fitting solution for your needs.
Softweb
accueil@yoursoftweb.org
+41 22 566 50 58
---
Social organizations need financial resources not only to achieve their projects and programs but also to insure their day to day existence.
In the current situation of fierce competition for funding, mastering base fundraising techniques and exchanging  with other project leaders, will allow you to stand out of the crowd. It will also enable you to imagine, potentially collectively,  creative solutions and then accelerate the creation and the development of association or social companies.
Softweb provides to project promoters professional and affordable services designed to help them develop innovative projects with a strong social or environmental impact.
1 – Free 1st consultation
Simply book your free appointment to discuss your challenges and benefit from a first assessment of potential solutions. Our area expertise :
mixed business models (legal status, fund-raising)
sustainable fund-raising
communication for associations and entrepreneurs
work-life balance – how to conciliate your personal and professional life.
We also organize discussions on various themes with selected partners. Join our mailing list to know all about it.
2 – Become a Softweb network member
Is working on your own sometimes too much of a strain ? Do you wish to meet other project leaders and benefit from their feedback and experience? Become a Softweb network member and enjoy the following benefits:
Two hours of consulting on the theme of your choice
One free month in our co-working space Soft-space
The opportunity to assist to our various network events
Strong discounts on the training sessions organized within Soft-Space (fundraising, communication, business model, storytelling,…etc)
3 – Boost your project thanks to coaching or mentoring
Members can apply for your mentoring (yearly project deposition) or entrepreneurship coaching program, for 3, 6 months or 1 year period.
From the juridical status choice until your business plan model, through first fundraising, you will be fully supported to launch your idea and  to make it a viable and sustainable project !
4 – General services for associations and entrepreneurs
Are you looking for an accountant, an IT expert or another specific competence to develop your project ? Are you fed up to loose your time on task you don't feel to have the competence or any added value ?
We are connecting you to professionals experts in the different and specific fields to help you, and we are proposing forfeits adapted to your needs.
5 – Get support in your fundraising campaigns
We are supporting you in your fundraising research through trainings, help to build a strong financing file and targeted relationship connections. We will help you building strategies toward auto financing. Come and meet us for a quotation
Testimony
«Meeting Softweb has brought a very stimulating boost to our project. Both content and form have been progressively structured thanks to their clarification questions.»
Project manager, Carrefour AddictionS
«The training with Softweb has mobilized the team stimulating new questions, new collaborative momentum ; it led us toward a more targeted approach to our fundraising research.»
Director,  Dance with me