Collectively identify and develop innovatives solutions
Softweb commits to the launch and development of community-oriented innovative projects. Our mission statement is to create the conditions for innovative solutions to social, environmental and economic issues to be identified and implemented.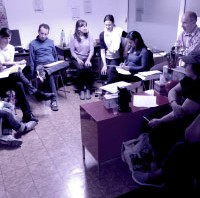 Social innovation workshops
Social innovation workshops are new cooperative processus events designed to imagine fresh and out of the box solutions to current issues. They gather academics, private or public instances, individuals and entrepreneurial or socially committed organisations to work together towards innovative solutions reaching out to the following goals:
Bring out identified issues perceived by participants to the foreground and reach new solutions
Encourage open and action-oriented discussions
Promote best practice sharing between individuals of various background and position
The workshops could be organised in synergies between two or more  companies on common themes such as talent attraction and retention, public and private partnerships, value chains…or devoted to a single company (contact us for more information).
Submit your ideas
You have an idea likely to improve local or international society ? You wish to submit this idea to field experts and benefit from their feedback ? Share your ideas: if your project is selected, it will be carried forward by a Lab task force designed to help you launch it and imagine future partnerships.
You want to join one of our ongoing project ?
The following projects are currently being developed within the Lab. Contact us to join one of our work groups and participate to their achievement !
A social innovation fund creation
Implementation of a self-audit tool for project leaders
Support individuals returning from assignments and help their integration in the local community
Development of entrepreneurial and socially committed projects in schools